Why do I need USB 3.0?



With the ever increasing demands of high-definition digital devices, a USB 3.0 interface can drastically reduce storage and transfer times for external hard drives, Flash drives, and camera memory cards.

For example, to transfer a 25 gigabyte Blu-ray® movie, it will take about 14 minutes using a USB 2.0 interface. But with a USB 3.0 interface the same file can be saved in only 70 seconds, which is ten times faster!


| | | | | | | |
| --- | --- | --- | --- | --- | --- | --- |
| | Song/Pic | 256 Flash | USB Flash | SD-Movie | USB Flash | HD-Movie |
4MB
256MB
1GB
6GB
16GB
25GB
Full Speed
(12Mbps)
5.3sec
5.7min
22min
2.2hr
5.9hr
9.3hr
High Speed
(480Mbps)
0.1sec
8.5sec
33sec
3.3min
8.9min
13.9min

Super Speed
(5Gbps)

0.01sec
0.8sec
3.3sec
20sec
53.3sec
70sec
**Copied from USB IDF 2008
USB 3.0 Features

USB 3.0 is the new generation transmission spec for computers and peripheral devices, with the following advantages:

1) Super speed: 10 times faster than USB 2.0, and backward compatible with all USB 2.0 interfaces. USB 3.0 uses a 9-pin connector, with 4 pins for compatibility with USB 2.0, and another 5 pins to support bi-directional data transmission.


Note: USB 3.0 has five extra pins compared to USB 2.0, allowing the USB host and device to operate in dual channels, for increased data transfer rates.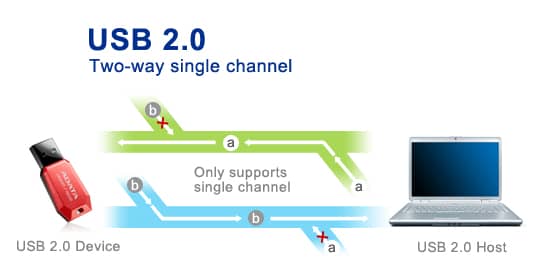 Note: The USB 2.0 host and devices using only simultaneous single-channel transmission can only receive or transmit single signal, which may cause a bottleneck on the data transmission.

2) More energy efficient: USB 3.0 power consumption is only one third that of USB 2.0. This is due to USB 3.0's implementation of three tier multi-layer power management technology, providing different power management schemes for different devices. This reduces power consumption according to various aspects of device architectures.

3) Higher current: USB 3.0 Output current reaches 900mA, an 80% increase over the 500mA supply of USB 2.0. The higher current allows for USB devices to charge faster.


USB 3.0 External Differences

USB 3.0 connector is in blue. The upper 5-pins provide two-way data transmission. The lower 4 pins provide backwards compatibility with USB 2.0.



Note: USB 3.0 Interfaces are all blue
Defined interface specification: Blue (Pantone 300C)

For more USB 3.0 flash drive product information, please refer to the official ADATA website.